Stewards VISTAs Work Collaboratively to Protect Federally Protected Gunnison Sage-GrouseC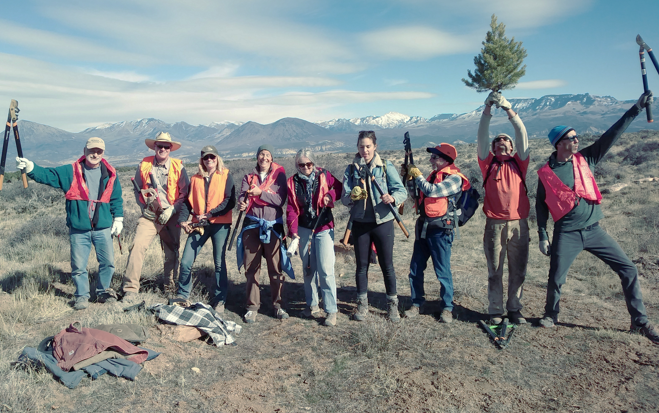 Volunteers braving the cold to help restore Gunnison Sage-Grouse habitat.
February 7, 2019 |  Two AmeriCorps VISTAs serving in Western Colorado have joined forces to protect the Gunnison Sage-Grouse. Holly Henriksen, serving with the Conservation Center in Colorado and Tatyana Sukharnikova, serving with Colorado Canyons Association, have helped develop a partnership with their local Bureau of Land Management (BLM) office and coordinated three Gunnison Sage-Grouse Habitat Restoration Work Day events with the other partner organizations. Their combined efforts have improved over 50 acres of habitat for the Gunnison Sage-Grouse. And, they've partnered with a local high school to give students "a glimpse of what it is like to be a wildlife biologist," says Tatyana. 
A federally threatened species, the Gunnison Sage Grouse is an important species on Colorado's Western Slope, and exists only in western Colorado and eastern Utah.  By bringing together various partners throughout different agencies, Holly and Tatyana are making a positive impact in the effort to conserve the Gunnison Sage-Grouse.