Historic Preservation Training Center
NPS Historic Preservation & Training Center (HPTC)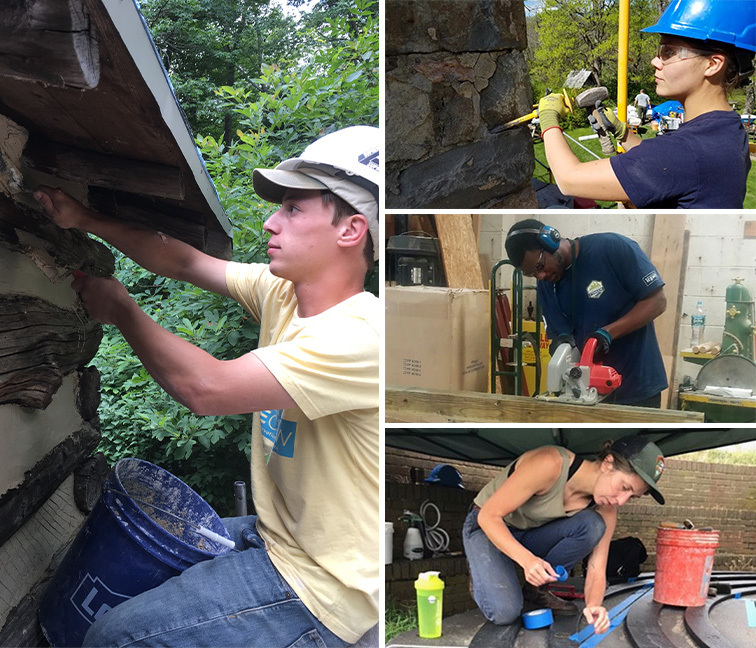 The HPTC completes technical preservation projects on historic structures within the NPS system. Interns and apprentices with the HPTC can expect to get hands-on experience and training in preservation trades and building crafts by industry leaders. The HPTC is dedicated to training the next generation of federal employees and stresses preservation philosophy alongside specialized trainings in masonry, carpentry, and woodcrafting. In 2017, Stewards members worked at HPTC sites in 18 national parks, monuments, and battlefields.
The HPTC has partnered with Stewards since 2014 and provides multiple types of opportunities based on an individual's interests and work experience.
The Traditional Trades Apprenticeship Program is an entry-level cohort-based training program in which participants learn preservation techniques as a group, then hone their skills working on HPTC work projects throughout the country. Apprenticeships last 20 weeks and start in early June.
The Veteran Trades Apprenticeship Program is specifically for post-9/11 veterans and follows a similar model to the Traditional Trades Apprenticeship Program. Apprentices attend a month-long training at Gettysburg National Military Park and then spend five months building these skills while working on preservation projects at national monuments and battlefields.
Preservation Work Experience positions are individualized, immersive internships in the preservation trades. Interns typically have some construction experience or education in historic preservation, but all individuals interested in this field are encouraged to apply. These positions are typically posted for the spring and summer.
RECRUITER CONTACT
For questions about the HPTC program, please contact:
Danny Margoles, Program Coordinator