Historic Preservation Training Center
NPS Historic Preservation & Training Center (HPTC)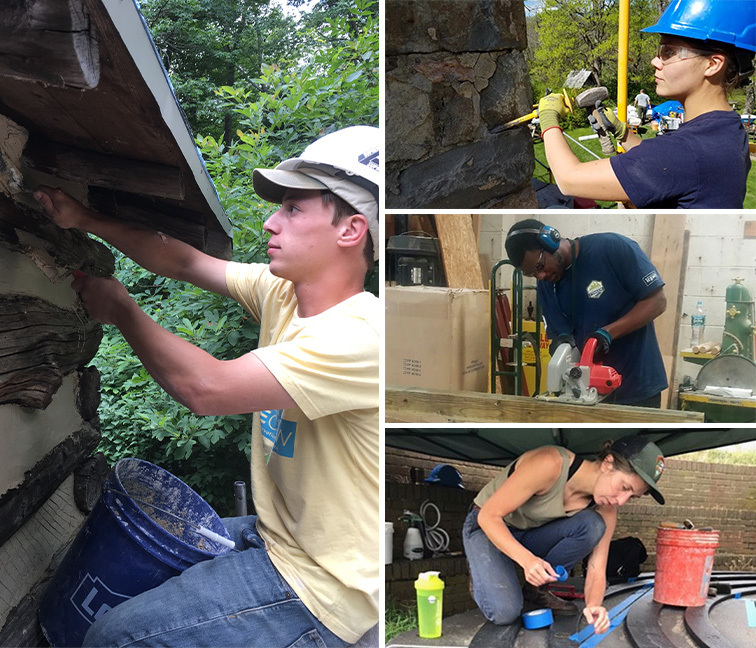 The HPTC completes technical preservation projects on historic structures within the NPS system. Interns and apprentices with the HPTC can expect to get hands-on experience and training in preservation trades and building crafts by industry leaders. The HPTC is dedicated to training the next generation of federal employees and stresses preservation philosophy alongside specialized training in masonry, carpentry, and woodcrafting. In 2017, Stewards members worked at HPTC sites in 18 national parks, monuments, and battlefields.
The HPTC has partnered with Stewards since 2014 and provides multiple types of opportunities based on an individual's interests and work experience.
The Traditional Trades Apprenticeship Program (TTAP) provides an immersive experience for diverse young adults and veterans to learn from experts, developing trade skills and knowledge to enter the workforce, while preserving traditional trades and addressing critical maintenance projects within our national parks. Through the TTAP, the NPS is laying the foundation to train the next generation of preservation maintenance workers with a focus on land and cultural resources. Each program cohort offers the NPS the opportunity to increase the geographical reach of the program's recruitment and delivery along with the capacity of skilled historic preservation workers to enter both the public and private sectors. Apprenticeships last 5 to 6 months.
Now accepting applications for the Spring 2022 cohort! Apply Here.
Preservation Work Experience (PWE) positions are individualized, immersive internships in the preservation trades. Interns typically have some construction experience or education in historic preservation, but all individuals interested in this field are encouraged to apply. These positions are typically posted for the spring and summer.
The Preservation Skills Development Program (PSD) is typically for people who have served previous terms with TTAP or PWE. Term dates vary and positions are individualized to support the needs of the project.
Learn more or See current opportunities here!
RECRUITER CONTACT
For questions about the HPTC program, please contact:
Ryan Tant, Program Coordinator