Historic Preservation Training Center
NPS Historic Preservation & Training Center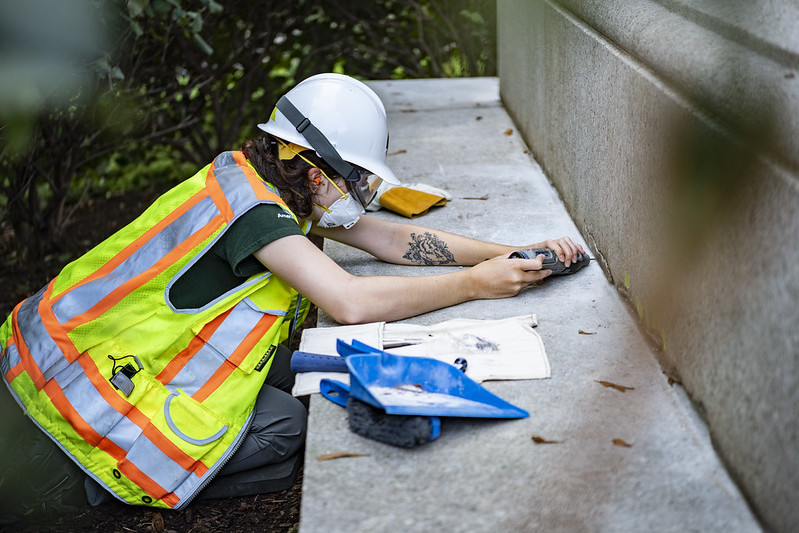 Historic Preservation Training Center (HPTC) completes technical preservation projects on historic structures within the NPS system. Interns and apprentices with HPTC can expect to get hands-on experience and training in preservation trades and building crafts by industry leaders. HPTC is dedicated to training the next generation of federal employees and stresses preservation philosophy alongside specialized training in masonry, carpentry, and wood crafting. In 2017, Stewards members worked at HPTC sites in 18 national parks, monuments, and battlefields.
HPTC has partnered with Stewards since 2014 and provides multiple types of opportunities based on an individual's interests and work experience.
Traditional Trades Advancement Program (TTAP) provides an immersive experience for diverse young adults and veterans to learn from experts, developing trade skills and knowledge to enter the workforce, while preserving traditional trades and addressing critical maintenance projects within our national parks. Through TTAP, the NPS is laying the foundation to train the next generation of preservation maintenance workers with a focus on land and cultural resources. Each program cohort offers the NPS the opportunity to increase the geographical reach of the program's recruitment and delivery along with the capacity of skilled historic preservation workers to enter both the public and private sectors. Positions last 5 to 6 months.
Historic Stewards positions are individualized, immersive internships in the preservation trades. Historic Stewards have experience and education in historic preservation either from higher learning or prior preservation/trades experience. These positions operate within the summer seasons between school and can extend to 26-weeks with Direct Hire Authority eligibility. All positions offer a $400/month housing stipend and are based out of the Historic Preservation Training Center in Frederick, MD.
Build Up Technical Internship Program provides professional experiences in technical fields to students and those who have recently graduated. Interns will have the unique experience to work alongside premier park planning, facilities, and lands NPS employees completing large-scale, complex projects of high impact. Opportunities include, but are not limited to engineering, architecture, community planning, realty services, project management, social sciences, geographic information systems and publication services. These opportunities will be located at NPS team and project locations across the country at parks, regional offices, or DC office. Some internships may be remote. Positions range from 11 -52 weeks, offer a minimum of $18/hr with the opportunity to earn noncompetitive hiring eligibility.
RECRUITER CONTACT
For questions about the HPTC program, please contact:
Gwennan Richmond, Program Coordinator