Partner
The impactful programming that Stewards Individual Placement Program operates is completed in collaboration with many incredible partners. Our project partners include organizations and land management agencies at the federal, state, and local levels. Additionally, generous supporting partners provide various resources from financial support to in-kind contributions. Together, we continue to make a positive impact.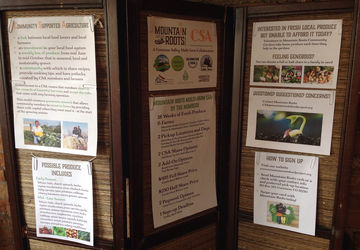 HOLLY CONN, STEWARDS PROJECT SITE SUPERVISOR
"It's been fantastic to be part of Stewards over the past few years and the objective - building capacity - has certainly been reached with Mountain Roots. We wouldn't be where we are today without the growth that our VISTA members have made possible."
Project Partners
Stewards Individual Placement Program partners with urban and rural community organizations across the United States, and with government agencies including the Corporation for National and Community Service (CNCS), United States Department of the Interior (DOI), and the United States Department of Agriculture (USDA). Stewards Individual Placement Program also partners with institutes of higher learning to support personal development for our participants.
Grow your local impact—host an AmeriCorps VISTA!
Stewards Individual Placement Program (SIPP) invites you to partner with us and the Corporation of National Community Service (CNCS) to host a member of our AmeriCorps VISTA (Volunteers in Service to America) program in your community.
Supporting Partners
Supporting Partners: Generous funders and supporting partners make it possible for us to operate programs that empower individuals to positively impact their lives, their communities and the environment. Whether it's through grant support, program sponsorship, collaborative marketing or gear support, our funders and supporting partners are investing in the future of their communities and the environment. Interested in becoming a funder or supporting partner? We'll work together to develop a unique partnership that reflects our aligned missions and impact. Please contact us!
Partnership Contact
Joey Ruehrwein, Director of Partnerships
joey@conservationlegacy.org or 970.401.2381