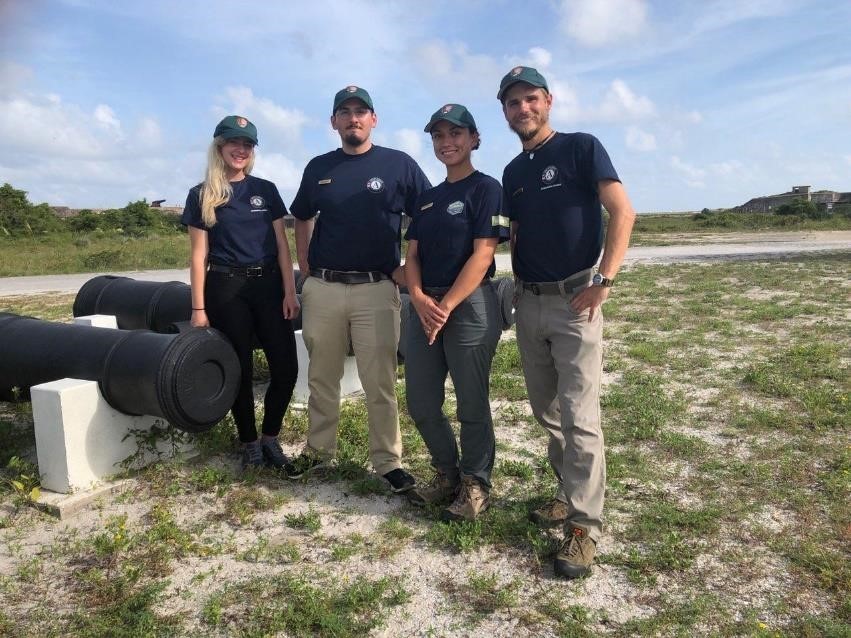 Kylie Decker, Adam Escobedo, Malina Swayne, and Michael Roy smile in their Stewards AmeriCorps gear next to a pair of historical cannons at Gulf Islands National Seashore.
November 13, 2019 |    Stewards AmeriCorps Intern Kylie Decker had a busy summer. She, along with three other summer interns, began and ended their school breaks at very different places. Known as the 'Stewards Resource Crew', this band of four began their terms of service digging deep into the rich history of the park and region, most notably centered on the American Civil War movements along the northern Gulf Coast.  The foursome tackled book research, historical cannon firing lessons and addressing fittings for authentic Civil War uniform pieces while practicing their visitor education speech practice.
After much practice, patience, and cramming, the Stewards resource crew was put through their paces, honing their skills until they were able to complete a demonstration for the public – an event that includes the explanation of and eventual firing of a reproduction cannon, marching patterns, visitor interaction, and once complete, the cleaning and maintenance of all the equipment used. 
Kylie, Adam Escobedo, Malina Swayne, and Michael Roy all look back on their summer as an experience of a lifetime. Their service provided much needed support to the park, enriched the visits of both youth and adults and provided each with experience they can apply back to their continued studies and future professional paths. All are headed back to their studies except Michael, who stayed on with Gulf Islands for an additional six-month AmeriCorps internship.