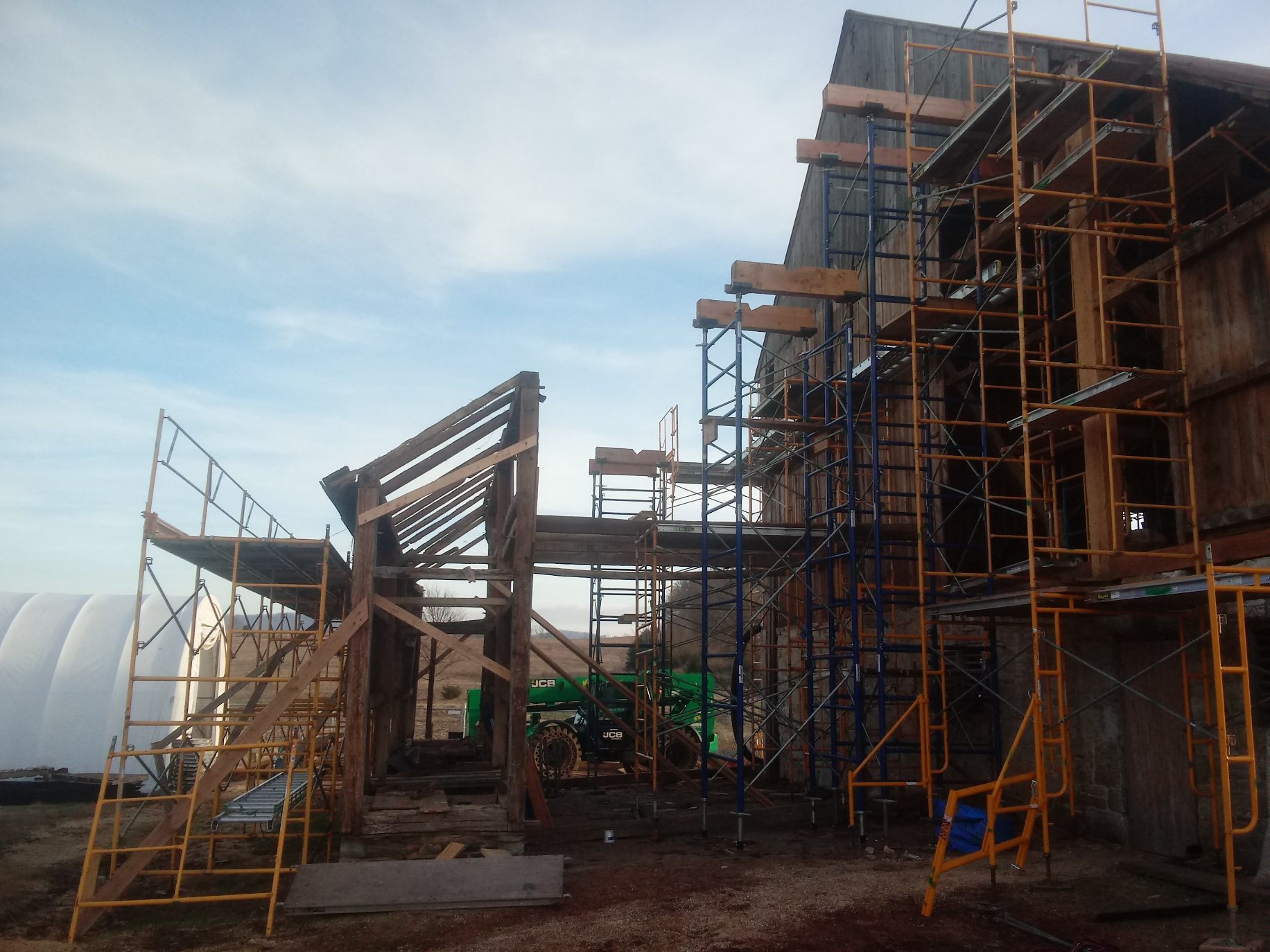 A snapshot of the deconstruction of the wagon shed/corn-crib on the Eastern Side of the Barn. Much of the structural components were deteriorated and in need of replacement or repair.
Feb 10, 2020 | Charles "Chuck" Morrison is serving his AmeriCorps term with the Historic Preservation Training Center in Fredrick Maryland. Over the past few months, Chuck and his crew of woodcrafters have been working to restore the Roulette Family Barn at Antietam National Battlefield. The barn was constructed around 1850 and was present during the Battle of Antietam, which is said to be the bloodiest day in United States History. The barn also served as a field hospital to care for wounded soldiers into the following weeks. This is what Chuck has to say about his time so far working at the Roulette Family Barn,
"I am highly impressed with the craftsmanship of the original builders of this structure and appreciate the importance of the project every time I step onto the job site. I consider it a huge honor to be able to work on such a meaningful building and feel proud everyday to participate in the preservation of a structure that helps tell an important story in the history of our Country."
The Historic Preservation Training Center provides training into the traditional trades such as Chuck's pursuit into wood crafting. Skills that Chuck has been working on include: proper timber selection and care, creating traditional wood joint connections such as the mortise and tenon, hand hew logs with a broad axe, hang siding with tongue and groove boards, notch/lay floorboards, and how to fasten logs with more modern techniques. The skills learned during Chuck's time with the Historic Preservation Training Center and Stewards will help further prepare him for a successful career in the future.
"The Roulette Barn is a Pennsylvania-style barn constructed c.1850. This picture shows the original stone foundation, and siding on the left side of the barn (East). You can see the necessary amount of scaffolding needed to work safely."