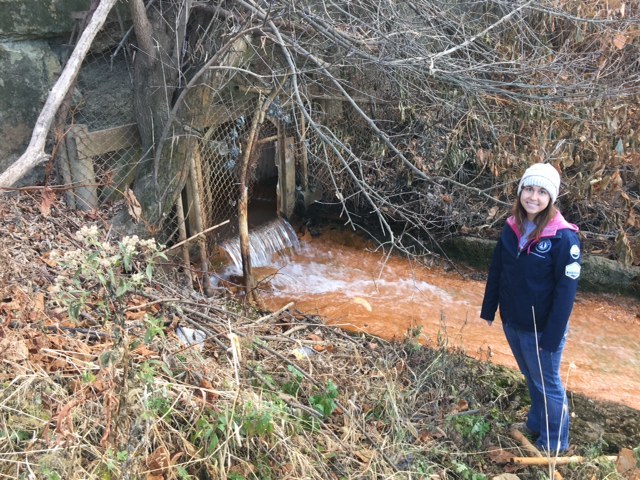 April 16, 2018 | In her second service term with the Office of Surface Mining, Reclamation and Enforcement (OSMRE), AmeriCorps member Cassandra Forte has taken on a number of large projects including water quality testing at a nearby safari park and wildlife conservation center, The Wilds. 
The Wilds (which also hosts an OSMRE AmeriCorps VISTA) requested technical assistance from OSMRE to help determine the extent of acid mine drainage problems on the property, prioritize problem areas, and suggest potential treatment options. Cassandra is part of the sampling team and hikes across the park with other team members to obtain and analyze water samples. They test the samples for iron, manganese, and aluminum content, as well as other traits like pH and conductivity. This project will continue through the end of her service.
This quarter, she also volunteered to represent OSMRE with another member of her division at historically black colleges Central State University and Wilberforce University near Dayton, Ohio. Cassandra presented on working for the federal government, building a federal resume, and internship opportunities with OSMRE.
The OSMRE Appalachian Regional Office also hosted a "Job Shadow" day for students at Westinghouse Academy in Pittsburgh. Approximately ten students from the academy learned about geology, hydrology, education outreach, biology, ecology, and cartography. Her past efforts have included working closely with a hydrogeologist to teach approximately 100 7th-grade-students about acid mine drainage. She also spoke to a freshman biology class about OSMRE, AmeriCorps and what she does in her role.