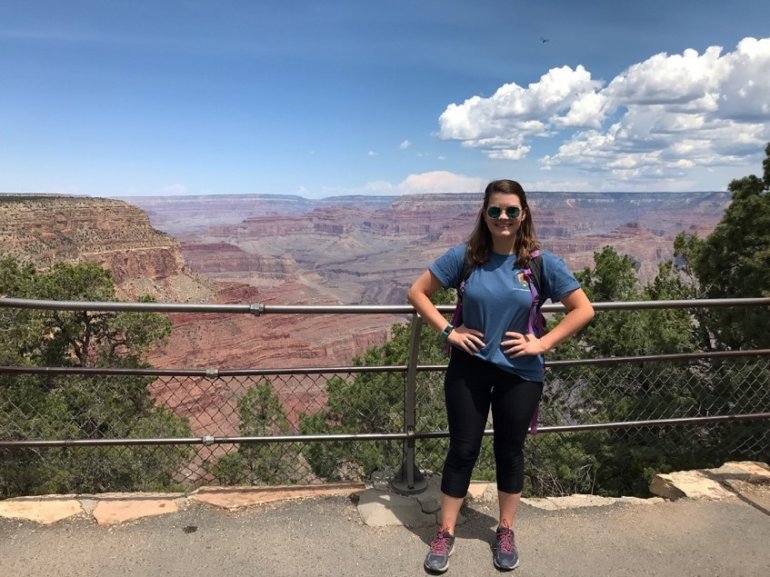 Chelsea Sullivan at Grand Canyon National Park, from where she was broadcast live on The Weather Channel to a national audience on behalf of the NPS.
In Chelsea Sullivan's Public Affairs internship with the National Park Service's Office of Communications, she gained an impressive array of experience handling all manner of NPS communications duties. Among other duties, she developed national news releases, introduced a new distribution list creation process to the national office, developed briefing documents for high level officials, and managed the national media email account, acting as the liaison between national media outlets and the National Park Service. 
Her term also included a few unique projects. She managed the 2018 National Christmas Tree Lighting show feed for broadcasters, preventing copyright infringement issues, developed a communications plan for an incident management team in the National Capital Region, and participated in a live interview with The Weather Channel from Grand Canyon National Park on hiking safety in the summer heat.  
She says,  
I am proud of the knowledge I am taking with me about all the amazing things that the National Park Service does, that I wasn't aware of prior to the program. I've always been interested in conservation, but natural and cultural resource management was all new to me. Before my program I was aware of the conservation efforts made by the National Park Service, but I learned about how the park service is helping both federal lands and private entities through grant programs. Programs like American Battlefield Protection Program and the Federal Historic Preservation Tax Incentives program help with conservation for mostly privately or locally held entities.  I learned a lot about how visitor use management has a direct link to natural and cultural resource management. If there are too many people visiting, littering, touching, etc. something fragile in the park, it has a direct consequence on the resource. If there are too many people visiting the same natural trail, there is a strain on the resource, and the trail could eventually erode. 
With that knowledge, and the impressive background in communications she gained through her internship, Chelsea is sure to be accomplishing great things in the future!