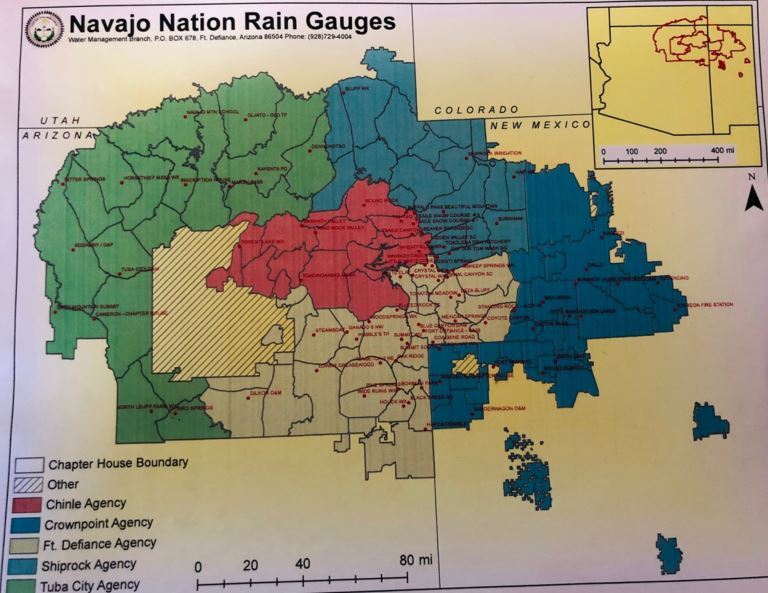 Map of the Navajo Nation's Rain Gauge sites, spanning an area larger than West Virginia. 
August 5, 2019 |  Henrietta Marks is an AmeriCorps member serving in the Bureau of Indian Affairs (BIA) WaterCorps Program in Fort Defiance, Arizona with the Water Resources Branch of the Navajo Nation, and is tasked with assessing drought impact. This is a tricky job, as the Water Resources Branch is a relatively young program, with data going back only to the 1980s – compared to many states that have data going back to the 1930s. Adding to the challenge, these already limited datasets have significant gaps, due to the sheer number of sites and a lack of capacity to monitor them. This can have major repercussions for the Nation when negotiating water rights with surrounding states and tribes.
Henrietta has been working with several other WaterCorps members and staff in the office to piece together these early datasets, year-by-year. You can think of Henrietta as a detective, scanning old records and piecing together a story to try to make sense of the water history complexities within the Navajo Nation that can be presented to the public on a national and even global level. This multi-year project has gained the attention of national agencies, such as The National Aeronautics and Space Administration, NASA.
Because of her work on this project, Henrietta has been offered an internship with NASA following her AmeriCorps term. Carl McClellan, Henrietta's supervisor in the Water Resources Branch, says he "couldn't be prouder of the efforts Henrietta has made to sift through decades worth of drought and precipitation data." He is optimistic that Henrietta has a future with the Water Resources Branch, so that she can continue making an impact on not only a tribal, but national scale.