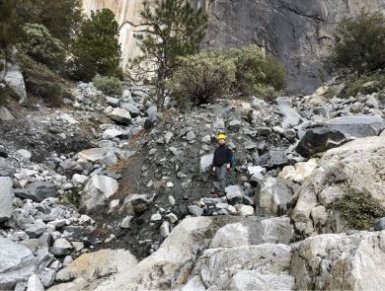 Mariah Radue standing next to the talus-bedrock contact on the El Capitan talus.
Mariah Radue, at Yosemite National Park had a productive and meaningful term with the Geoscientist-in-the-Parks (GIP) program. Her primary projects were incredibly valuable to the park as she was focused on estimating long-term erosion rates in Yosemite Valley. She also documented rock fall events, monitored air quality, digitized glacial data, and contributed to the park's geology webpage.  
The information she studied and complied will be used by the park to make very important management decisions regarding visitor and employee safety in the future. To compile this information, Mariah compared the erosion rates to modern rock fall rates and ran analysis using several GIS software platforms. 
Mariah was impacted so significantly by her term with the Geoscientists-in-the-Park that her future plans are to be a geologist or a physical science technician with the National Park Service, US Geological Survey, or the Forest Service.