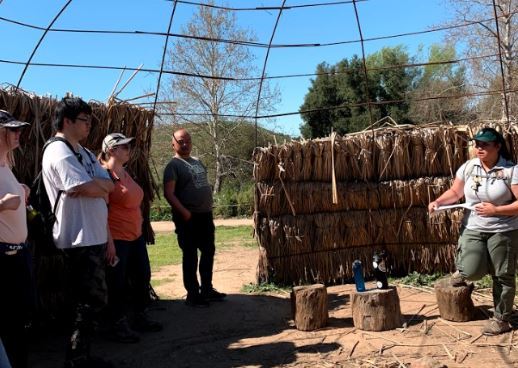 Lei and the students who participated in the Alternate Break.
Lei De Vera, a current Community Volunteer Ambassador (CVA) serving at the Santa Monica Mountains National Recreation Area hosted a volunteer opportunity with The University of Nevada for the entirety of Spring Break. The group is called Alternative Breaks, and they are a student-led group that focuses on social justice issues through service alongside communities. Throughout their Alternative Break, the students would focus on fire ecology, a branch of ecology that focuses on the origins of wildland fire and its relationship to the environments that surrounds it. As a collective group, the students completed 171 hours of service together. Lei and the students completed a beach clean-up, visitor center courtyard clean up, posted fire trail maintenance, and plant restoration. 
"I coordinate volunteer opportunities that give back to this park ranging from post fire trail maintenance to vegetation plant restoration. Being able to be a part of a bigger cause has made the most effort in moving forward for our park. I am glad to engage with volunteers and to provide opportunities for them at Santa Monica Mountains National Recreation Area!" – Lei De Vera, CVA, Santa Monica Mountains National Recreational Area.