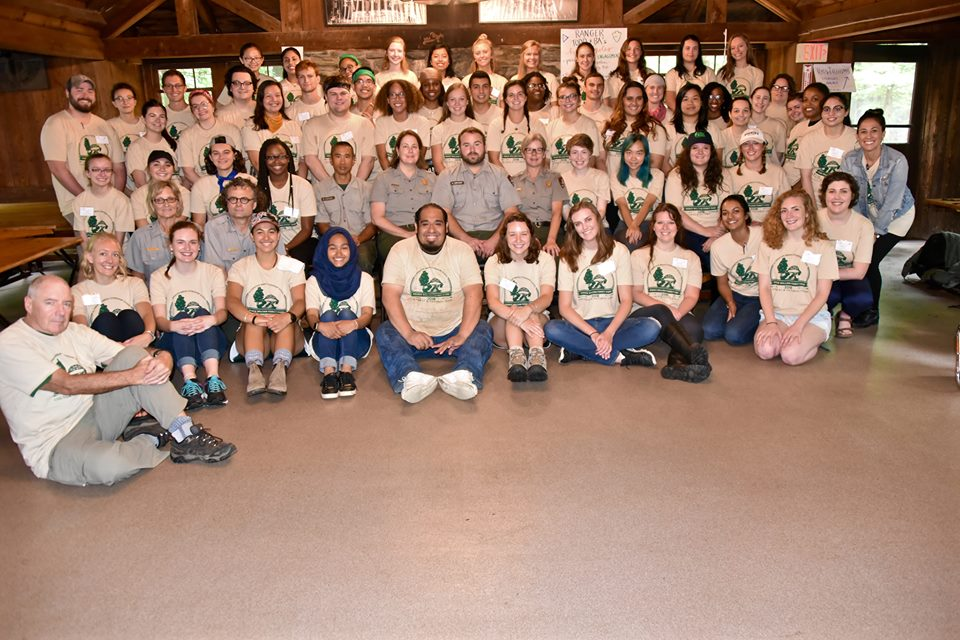 August 17, 2018 | At Grand Canyon National Park, a big focus of my Community Volunteer Ambassador (CVA) position has been coordinating youth volunteers in the park. This allows me to work with over 100 college students that come between February and April during their spring break. These students, "alternative breakers", are all part of a movement of positive social change through strong direct service.
 Alternative breaks are typically a week long service project designed and planned by college students during the spring vacation. Student groups, usually ten to fifteen people, prepare at their universities beforehand by educating themselves on all parts of the project. Break Away, a national nonprofit organization that promotes the development of quality alternative break programs through training, assisting, and connecting campuses and communities will help students with the prep work and any questions they may have before the trip. The students then travel to their chosen site where they stay and volunteer for the following week.
 Break Away also hosts four annual training conferences, Alternative Break Citizenship Schools (ABCs). These trainings connect student leaders from universities across the country, providing meaningful education sessions and to experience different organizations that their school can partner with for an alternative break. Each ABCs can host roughly 50 students. The conference is half educational trainings, and half service work at the host site. Grand Canyon National Park has been chosen as a partner for this training eight times, solidifying a relationship between the National Park Service, Break Away, and more importantly, more than twenty five different college's each year. This conference was also how I met my supervisor four years ago, and one of the main reasons I received my position at Grand Canyon National Park as a CVA!
 After many years of hosting the conference, the Grand Canyon National Park volunteer program decided it was time to spread the love and head east. After scoping out the spots, Prince William Forest Park in Triangle, VA was chosen. Before we left Grand Canyon National Park, we planned, developed and created educational materials, schedules, projects, and much more.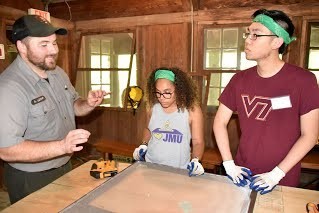 Once we arrived in VA, it was go time. More than forty students from thirty one universities came, intrigued by both the outdoors and the conference description:
America's Best Idea: Common Ground in Uncommon Spaces
"For more than 100 years, the National Park Service has been a cornerstone of our nation's past and present - committed to the preservation and protection of our country's land and culture. In an effort to increase access and inclusion within its workforce and individual park units, they've provided spaces to highlight stories of marginalized communities; worked to preserve and restore indigenous lands and artifacts; and created initiatives to increase citizens' involvement in parks. The future of the National Park Service, however, may be set on a different course as their newest five-year strategic plan moves toward different priorities. Join us near our nation's capital to work within Prince William Forest Park while addressing the future of our public lands and what it means to build a nation of environmental stewards."
For four days, students participated in workshops in the morning on environmental stewardship and civic engagement, and in the afternoon provided meaningful, hands on service work to Prince William Forest Park. Volunteer projects included painting bathrooms, repairing historic window screens, and moving stone up trail to rebuild the counsel ring. Big thanks to Tegan from Intermountain Region, and Edward and Lenny from the Washington D.C office for all coming out to experience the conference!
Through this incredible experience, student volunteers are able to see a career path that they might not have thought of. Like myself, and many before me, students from the ABCs have become CVA's, Geoscientist-in-Park's, began seasonal work, and even started permanent jobs with the National Park Service (NPS). Not only is the conference a fantastic opportunity for networking, but also a chance for NPS volunteer coordinators/managers to connect with the participants, discussing how their park can host an alternative break. The students of the alternative break realm are passionate, caring, and hardworking. They come motivated and ready. I've had the pleasure of working with eight alternative break groups from all over the country in 2018 and am excited to work with ten more this coming year. Seeing their desire to learn, serve, and grow puts meaning behind my work, which truly is all I can ask for in this position.
Written by Rachele Funk, 2018 CVA Member at Grand Canyon National Park