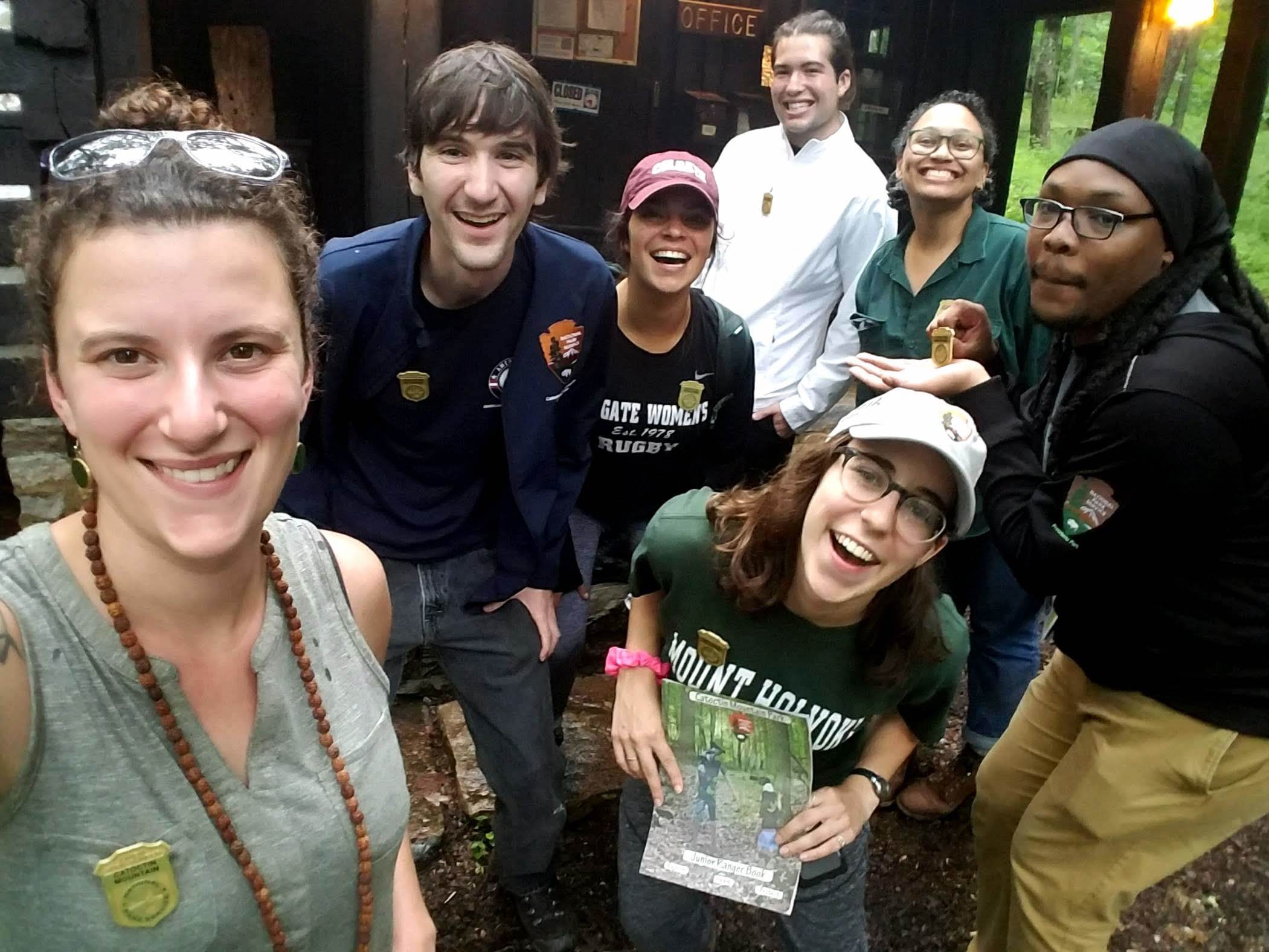 I moved to DC in February for the Community Volunteer Ambassador (CVA) position.  I moved here with excitement, knowing I would be working in an urban park engaging the surrounding community through volunteerism. But, I was nervous about not knowing anyone in the city and trying to meet other people my age. My anxiety quelled on week 3 as I participated in a training with the 7 other CVAs in my region. On just the second day of this training, our different personalities and backgrounds had shown through, but we had bonded over our same passions and circumstances. Now, every month I look forward to meeting with the 7 other CVAs in the National Capital Region.
Having this close knit regional dynamic greatly enhances the opportunities available to all of us during our year of service. Not only am I able to lead volunteers in removing invasive plant species at Rock Creek Park, but I can gain other valuable experiences at all of the parks in my region. I worked with two other CVAs at the White House Easter Egg Roll managing a crowd of almost 30,000 guests. I engaged with visitors from around the country and the world by the Jefferson Memorial during the Cherry Blossom Festival. We toured the Main Interior Building and stood atop its roof taking in the amazing view of the White House and National Mall. We hiked through Catoctin Mountain Park discussing the challenges and successes of our positions.
My fellow NCR CVAs enhance the opportunities available to me, and they also enhance my ability to build and support volunteer programs and community connections at my park. Through the power of teamwork and building off each other's strengths, we increase the value added to all of our parks. We meet monthly, with the location rotating to everyone's park. At these meetings, we collaborate on ideas, provide advice for challenges, and celebrate in each other's successes. We constantly work together on projects, giving everyone an outlet to use their strengths or build on skills they want to improve. We are all working together on a region-wide Bark Ranger initiative to promote responsible dog-walking throughout parks in the region. Monx, the CVA at Chesapeake & Ohio Canal, and his supervisor offered me invaluable advice on volunteer branding and identity. Natalie, the CVA at President's Park, provided me with best practices for front desk volunteers. I am helping Natalie organize and gain insights from her volunteer database. I also work with Jackie, the National Mall CVA, and her Youth Conservation Corps leading them in invasive plant species removal at Rock Creek. Each one of us comes to this position with a different background complete with different skills, experiences, and strengths. We have tapped into these differences to improve the opportunities available to us and to improve our ability to serve our parks and communities.
This support network has been critical to my success in this position. I know the latter half of our year of service will only strengthen our team dynamic, bringing ourselves and our parks more successes. Bonded through our year of service and "getting things done" together, I cannot wait to see my fellow CVAs at this month's meeting. It happens to be on my birthday this month, and I couldn't think of a better way to spend my birthday than with these 7 friends.
Written by Katie Tyler, 2018 CVA Member at Rock Creek Park